Walk in Hong Kong is the city's leading cultural enterprise. We specialize in curating memorable experiences — be it tours or immersive events, in-person or virtual — that tell the mesmerizing stories of our bustling metropolis.
Our vision
Build something that Hong Kong has never seen before.
Walk in Hong Kong began life in 2013 as a startup aiming to introduce walking tours to Hong Kong. Over the past few years, we have created a number of firsts — we have led Hong Kong's first wheelchair-friendly walking tour, designed Hong Kong's first gamified walking tour, and organized Hong Kong's first secondary school level architectural education programme. Entrepreneurial spirit is deeply embedded in the company's DNA.
Nurses, architects, government officials, academics... Our tour guides come from all walks of life, yet they share the same passion — telling you the city's mesmerizing tales (we do have a certified hypnotist on board!) and their own equally fascinating stories. Learn more about our co-founders, team members and some of our guides here:
(Kudos to Rayman Cheuk - Photographer for the great photos!)
Paul Chi-yuen Chan
Co-founder & CEO
An erstwhile academic, a former ministerial aide, and a man of finance in his previous incarnation, Paul is principally an avid traveller. Outside of work, he can be found temple or village-hopping. By founding Walk in Hong Kong, Paul is determined to show the world that his home turf is not just a fishing-village-turned-metropolis, since there are actually more mesmerizing stories to tell!
Haider Kikabhoy
Co-founder
Born into a family of natural storytellers, Haider grew up spellbound by the tales he heard from Hong Kong's past century. He stalks the city's streets in an imagined time machine, bent on resurrecting fabled buildings from the ashes of time. Whimsical and wry, his walks are a jukebox of Hong Kong's eccentricities.
Chung-wah Chow
Co-founder
Chungwah is a travel writer in both English and Chinese. She's co-authored Lonely Planet guides to Hong Kong, China and Taiwan, as well as written for the BBC, CNN and various Asian media outlets. She enjoys ikebana, chado and yoga. As a careful yet adventurous traveller, she explores haunted house at midnight, challenges herself for a volcano excursion and graveyard is on her top visit list!
Carmen
Project and Marketing Manager
Lesley
Communications and Project Manager
You
could be our next team member!
Ling
Social Media Strategist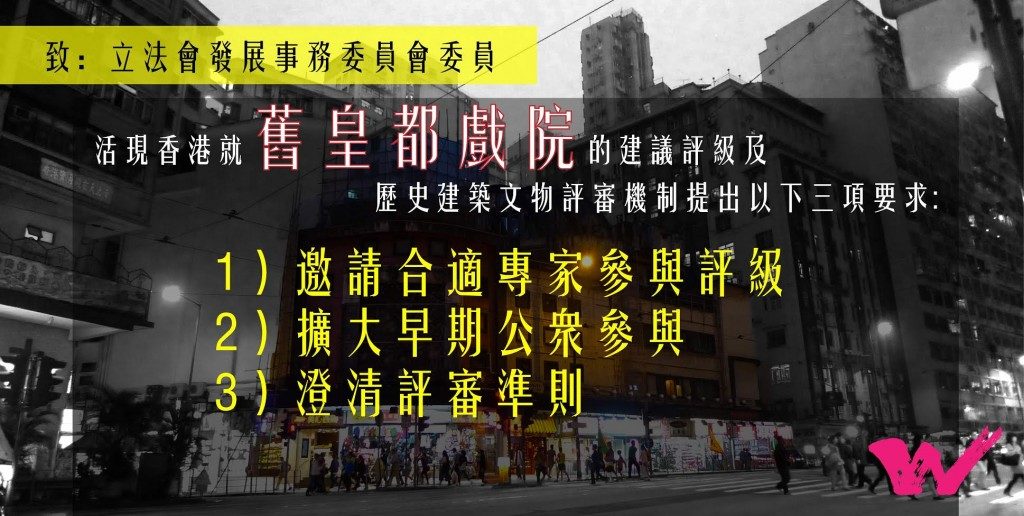 致:立法會發展事務委員會委員 促請古物古蹟辧事處檢討現時歷史建築文物評審機制 古物古蹟辧事處(古蹟辦)早前建議將北角舊皇都戲院評為三級歷史建築,屬歷史評級中最低級別,引起公眾關注,及質疑古蹟辦嚴重低估了這珍貴建築的文物價值。文化企業活現香港(Walk in Hong Kong)早前撰寫了舊皇都戲院文…