Since the beginning of the pandemic, Walk In Hong Kong has been dedicated to providing high-quality online experiential cultural learning activities for young people, hoping to inculcate some enjoyment and warmth in the monotonous at-home atmosphere, while also encouraging cultural and historical dialogue complementing subject content from their education.
Guided tours: designed to meet the curriculum needs of different subjects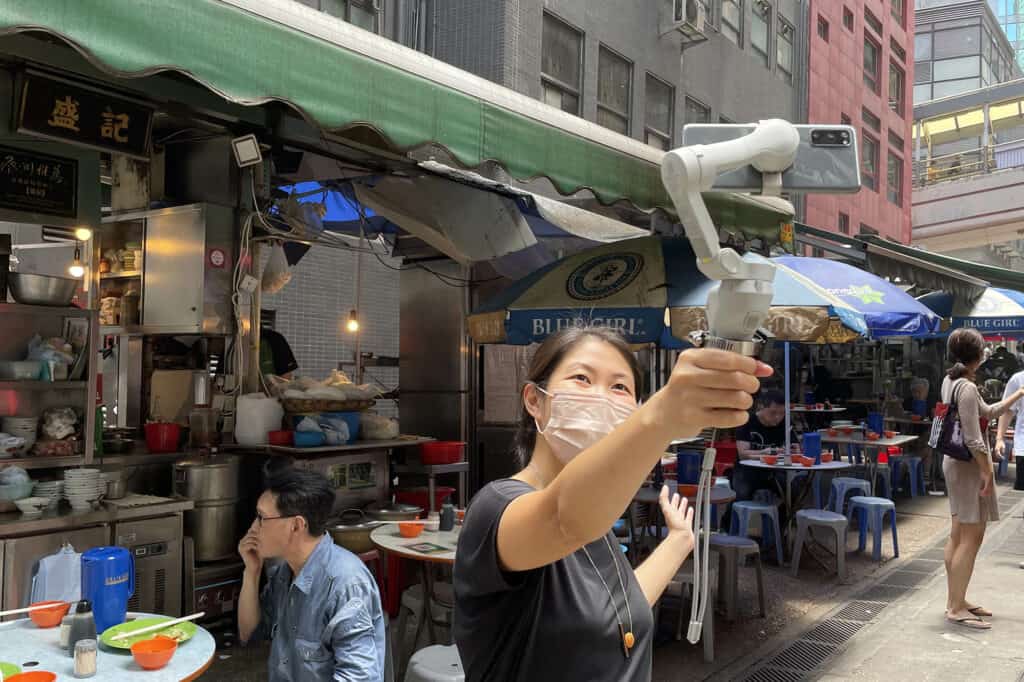 We offer expertly curated tours that meet the needs of various school curricula. Please find our wide selection of themed tours for each subject below. You may choose between in-person or virtual mode. We are happy to make recommendations.
In-Person tour
Our usual tour duration is 2 to 2.5 hours. Tour groups with more than 22 participants are advised to divide into 2 small groups.
Virtual tour
Whether for one class or the whole school, our highly interactive online tours bring the communities and their stories into your classrooms at your convenience. They can be easily incorporated into your busy school schedule as no travel is needed. They provide a budget-friendly yet immersive learning experience. Mainland China tours are also available that transport you to significant historic sites in real time. 
(Note: Tours with * are special tours with fees different from other general tours. For details, please contact our staff.)
Skills Training Workshop: Enhance Personal Competitiveness
Walk in Hong Kong has rich training experience. Under the "new normal", our training workshops can be held both in-person and online, breaking through geographical boundaries and being widely praised by all parties.
Storytelling Skills Training Workshop
"Storytelling" may sound easy, but the use of storytelling skills to capture the audience has become a furtive trait amongst successful people. Students learn to wrap their speeches in stories, engage audiences with lively and interesting narratives, and handle them well in public speaking, presentations, interviews and other opportunities to express themselves in the future.
Historical data collection workshop
In order to gain an in-depth understanding of the subject, students often need to scour the Internet for relevant information on their own. However, how to properly collect data is also an erudition. This workshop aims to enhance students' ability to collect data. By mastering more effective data collection skills, students can be more comfortable in self-directed learning.
Cultural Mapping Workshop
Including introduction to cultural maps, field surveying and map making workshops to understand the function of cultural maps and the importance of promoting cultural conservation. Participants can utilize multimedia teaching materials (physical or electronic publishing) to absorb and share knowledge of the region's history and culture.
By discussing community research methods such as "Kao Xian Xue" and "Walking Method", students will learn the importance of community research, proper data collection methods, report writing and public speaking skills. Students can gain an in-depth understanding of different communities in Hong Kong, experience the conservation and inheritance of Chinese culture in society, and improve students' observation, analysis and diverse thinking skills.
Virtual Tour × Physical Workshop Dual Experience: Complement Each Other and Enhance Learning Efficiency
Want to get to know the community through live online guided tours and enjoy the fun of physical workshops at the same time? Do both with the following two-hour dual experience, popular with teachers and students:
Virtual Old Town Central Tour × Physical Storytelling Skills Training Workshop (2-hour experience)
1-hour physical storytelling training workshop

Recognize the importance of storytelling
Distinguish fact from fiction, and analyze the conditions for a good story
Master storytelling skills, such as plot structure and literary devices
Learn basic speaking and storytelling devices and techniques
Virtual Kowloon Walled City Story Tour × Physical Historical Data Collection Skills Workshop (2-hour experience)
1-hour physical historical data collection skills workshop

Learn the basic methods of historical research and find clues about the history of the Walled City
Comparing historical photos to reshape changes in the Walled City
Try to identify and recognize different Teochew traditional food
Analyze old maps to understand how changes in the surrounding environment relate to the monuments themselves
Intangible Cultural Heritage Experience
Through personal contact with various traditional Chinese crafts, local cultural customs, national intangible cultural heritage projects and folk festival traditions, understand the value of intangible cultural heritage.
Intangible Cultural Heritage Investigation
We provide various national-level intangible cultural heritage projects and traditional folk festival survey activities for many schools such as SKH Chi Fu Chi Nam Primary School, including Yu Lan Festival, Tai O Dragon Boat Festival, Tin Hau Festival, Mid-Autumn Festival Fire Dragon Dance and Taiping Qing ceremonies. Our Investigation allows participants to understand the folk customs, culture and historical traditions of China and Hong Kong.
Intangible Cultural Heritage Workshop
We provide different cultural workshops for St. James' Settlement's school network and many primary and secondary school students, by allowing them to experience various traditional Chinese handicrafts and local culture, such as making mini flower wreathes, minibus signs, flour dolls, Tea Kueh, sugar blowing, paper tearing, Chinese knot tying, embroidery, movable type printing and tasting Hong Kong-style milk tea and food, to understand the preciousness of intangible cultural heritage.
Talks and Teacher Training Activities
On-campus talks
Walk in Hong Kong can arrange interactive talks and seminars, inviting people from all walks of life to share their professional insights with teachers and students on topics including Hong Kong's history, cultural heritage and social impact of sustainable tourism, as well as sharing tips on expressing concepts through storytelling.
Teacher training
We hope to break the tradition of previous teacher development days and use innovative teacher development models, including pedagogy workshops, customized themed guided tours and themetic lectures to share teaching resources, exchange cultural and teaching experience with each other, and to elevate the pedagogy of each subject level.
Walk in Hong Kong's well-organized activities have always attracted the participation of many local and overseas educational institutions and related groups, so that the new generation can learn about Hong Kong's unique cultural history.
"Excellent virtual tour. Engaging and interactive online activities – that's exactly what students need! Historical virtual tours is the new trend of students' learning!"
Miss Tam, Pentecostal Lam Hon Kwong School
You did the best arrangement under this difficult circumstance! Our online class also wondered that there is such a visit activity, which adds interest and allows students to broaden their knowledge.
Ms. Ching, Shun Tak Fraternal Association Seaward Woo College
"The live scene is combined with the old photo explanation. It is very clear and detailed. The students have a very fulfilling experience. The students responded very well and answered questions actively. I will continue to support, thank you!"
Ms. Lam, St. Antonius Girls' College